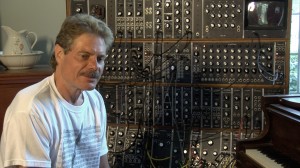 Another full day as we set off once more to the mountains and stopped in on Gene Stopp, Keith's Moog Caretaker,
who gave us some insights on the modular system and revealed some of its most recent additions.
We also caught up with Rachel Flowers, a young girl who performed some of her favorite Emerson tunes
and revealed some of her other musical influences.
Then it was back to the coast, and we were able to record an insightful and honest  interview with Mari Kawaguchi, Keith's partner, in a studio courtesy of  Whoohoo Live's David Skye. The interview also gave insights into his recent work with the symphonies in Japan.