Thanks to all our supporters who have contributed to the production of the film, we have made our Production goal, and so are now heading into our first cut!
There is still a fair distance left to run in post production, both assembling the film (over 100 hours of raw footage!), sweetening the video / audio and making sure we have our licensing sorted out, which is why we still have to reach our overall campaign target.
The supporters who tipped us over the production target and into our overall campaign goal included Chris Morrison, Christiaan Gustav Karreman, Kathie Brown and Jari Kotola. A very special mention to Anne Hazelbaker and her 13 year old son Nick Hazelbaker.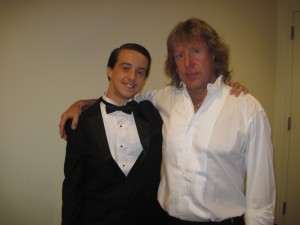 Nick met Keith at the recent Kentucky performance, and it was a dream come true for the gifted young keyboard player.
Keep up the great work Nick, and click this link if you want to find out more about him http://local.cincinnati.com/share/story/208707.