A very happy holiday season to everyone, this is going to be my last blog post of the year, as I finish off my summary of the latter part of the years shooting.
Last month, we caught up with former Rolling Stones manager and founder of independent label Immediate Records, Andrew Loog Oldham. Lucky enough to catch up with him away from his home in Columbia to the much easier for us to get to Vancouver, we met up with him at at GRB Productions studio, couertesy of Gary Procknow.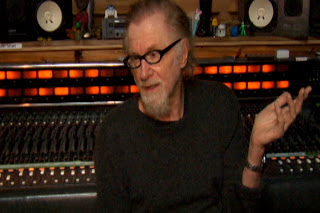 Well it was easier, but given we were driving from the interior of British Columbia to the coast for about 6 hours in  a snow storm, it still felt like a bit of a journey! Once we got there, we were surprised to learn that Andrew had done an interview there for another band's documentary the day before... which was great really as he was already in the zone for the interview process.
Armed with our usual interview technique and a handful of questions from Mr Emerson himself, we had an excellent interview... albeit filled with a few holes from the author of auto-biographies called "Stoned" and "2Stoned".
In summary, this year has been a very successful year for the documentary with now over 80 hours of footage in the can. The list of interviews has very almost been completely checked off and we have been blessed with all of these talented people volunteering to be a part of this documentary.
Now it is time prepare for editing all this footage into a feature length film!
Merry Christmas everyone and a Happy New Year!