We are in the final week of our current indiegogo campaign click here for more info. https://igg.me/at/keithemerson
From Marc Bonilla:
The Official Keith Emerson Tribute Concert will be held Saturday, May 28, at the El Rey Theatre in Los Angeles. It will be a retrospective of Keith's entire career from the Nice, to ELP, to the Keith Emerson Band and Three Fates Project. Many of the artists who were close friends and have worked with Keith will be performing some of his most famous works. It promises to be a great night of music and homage to one of the most influential musicians and composers of the twentieth century.
The event will happen Saturday, May 28 at the El Rey Theatre. Look for us on air this Tuesday, April 19th at 8:20am, if you're in the Los Angeles area on Mark In The Morning - 100.3 The SOUND.
http://www.theelrey.com/events/detail/309437#.V...
The Official Keith Emerson Tribute Show roster is now set in stone. Appearing on the bill will be:
Brian Auger (Oblivion Express) Eddie Jobson (U.K. / Roxy Music) Jordan Rudess (Dream Theater) Steve Porcaro (Toto) CJ Vanston (Spinal Tap) Steve Lukather (Toto) Philippe Saisse (Al Dimeola) Gregg Bissonette (Ringo Starr) Vinnie Colaiuta (Jeff Beck, Frank Zappa) Jeff "Skunk" Baxter (Steely Dan / Doobie Bros.) Keith Emerson Band Marc Bonilla (Keith Emerson / Toy Matinee) Troy Luccketta (Tesla, Three Fates Project) Joe Travers (Zappa's Universe) Travis Davis (Keith Emerson Band) Mick Mahan (Pat Benatar) Mike Wallace (Boys Club / Dragonchoir) Jonathan Sindelman (Alan White Band) Maestro Terje Mikkelsen (Three Fates Project) Rachel Flowers Rick Livingstone Kai Matsumoto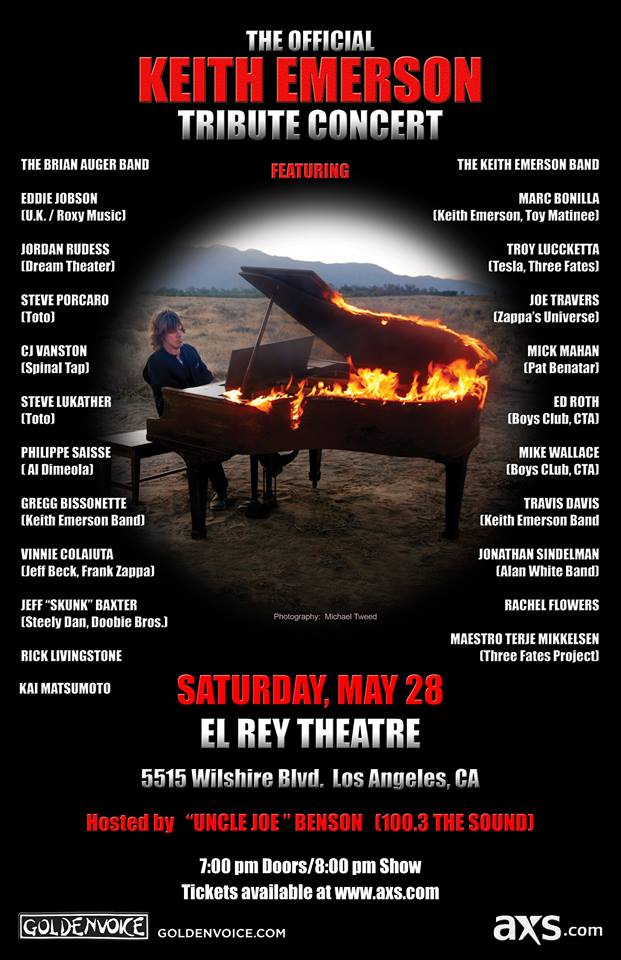 --------------------------------------------------------------------------------------------
My hope is to get there and record some interviews (both new and updated) for the documentary, although this is unbudgeted, so please continue to share and help us get there!