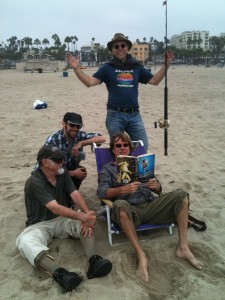 After a few days of intensive driving from interior BC to Hollywood California, we have made it to the beach... and soon after stumbled across an avid Keith Emerson fan reading a book and making holes in the sand.
Shooting on half a shoe-string budget, on a healthy diet of fast foods and highway hotels... we've managed 5 interviews in the few days we've been here.
Thanks to the Rainbow Bar and Grill on Sunset Boulevard, we were able to catch up with former Gary Farr and the Tbones guitarist Cy Langsdon. Our first interview of the trip and crazily we weren't the only crew who got in there that day (a reality tv crew managed to sneak in... but seeing as it was about Food and the Mob... we let it slide...!).
Some great stories from Cy, and a great way to kick things off. Next up was Karen McCarthy the daughter of the inventor of Keith's Flying Piano, that he flew on a few occasions in the seventies... most famously at the California Jam. Great stories behind another great friend of Keith.
Stories from the road in recent years by catching up with Marc Berthiaume, one of Keith's technicians fishing off of Santa Monica pier. Then finally we set off to CJ Vanston's studio in Studio City, and were lucky enough to interview both him and former Doobie Brothers and Best Guitarist Jeffrey "Skunk" Baxter about their experiences with the Maestro.
We begin the climb back up to Canada tomorrow as we hit the road for Oregon for the Rogue Valley symphony orchestras performance featuring Keith Emerson's Concerto #1.
More coming soon!